The increase in the use of devices and the connection flexibility that they allow today, means that more and more workers access the network from different places and devices. As a result of this increased mobility, effectively securing access to corporate data and networks has become a huge challenge for system administrators, who spend much of their time provisioning, training users, and managing devices. .

The primary goal of identity management is to ensure that only authenticated users have access to the specific applications, systems, or environments for which they are authorized. This includes control over user provisioning and the process of onboarding new users, such as employees, partners, customers... Identity management also includes control over the process of authorizing system or network permissions to existing users and the exclusion of users who are no longer authorized to access the organization's systems.

For this reason, companies must assume that identity and access security is essential to guarantee the integrity of their applications and data, combining measures such as user training, solid company protocols, robust WAFs, or even the implementation of virtual private networks... must be accompanied by measures that facilitate and guarantee good management of identity and services not only for users but also for the administrator of these systems.

Implementing a platform where accesses can be monitored safely, offers security advantages necessary for the "good work" of companies, being able to offer multiple advantages such as:


► Security
By channeling all authentication and access requests through a powerful portal, through a secure and encrypted connection, they will be able to have full control of what happens with the company's applications and services.

► Efficiency
Full access control and visibility will enable organizations to offer their users a consistent experience and reduced risk of phishing attempts. Managing to reduce the response time to incidents, even allowing the identification of the input vector of the vulnerability in the event of an incident.

► Productivity
Having a management platform allows the company in a very simple way for the system administrator to manage access, manage roles, even manage and provision users of the company's security measures in an easy and safe way, in addition to the Reliable IAM solutions help empower employees to strengthen their overall security postures.

► Compliance
Compliance and corporate governance concerns continue to be the main drivers of IAM spending. This type of platform allows security measures and policies to be applied to all operating systems, devices and platforms of an organization or facility based on roles and configuring different accesses.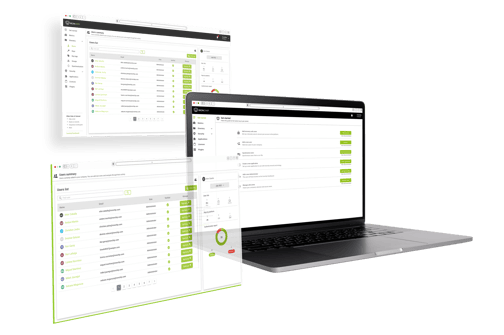 Identity management must be considered, today, an essential component for security within organizations.

The Ironchip platform provides organizations with the security and visibility to offer their users a consistent experience and a lower risk of suffering vulnerabilities, providing in addition to the aforementioned advantages and also providing additional features.

It is a 100% adaptable solution to your needs, it allows integration in any service in an agile and comfortable way. Protect access to VPNs such as Check Point, Fortinet, Palo Alto, Outlook, Google emails..., platforms such as Azure Cloud, Office 365, Google Services, web applications, business... even protect the Windows logins.

In addition, Ironchip not only allows you to manage the identities of your users, but it is also capable of guaranteeing a secure digital identity based on intelligent location.
---
Our security software detects unauthorized access by transparently learning the behavior of a company's users in relation to the services they access and the places from which they access, in the event of abnormal behavior generating an alert so that this access can be managed and prevent improper access.
Intrusion Detection System (IDS), analyzes the behaviour of human beings in their daily relationship with the company's services, in this way, when someone operates with unusual location behavior, your system will report them as an intruder thanks to our IDS, being able to avoid inappropriate access in time.

This portal also includes single authentication (SSO) and multi-factor authentication (MFA), essential for a secure identity solution. Get a Passwordless MFA with intelligent location, without passwords, without codes. With Ironchip, workers will receive a notification in the mobile/computer application that they will validate and that moment they will be guaranteeing that they are who they say they are, with three identity tests: user, device intelligence and mobility behavior. This easy and secure user authentication, provides your employees with the easiest authentication system to use. While these will operate with peace of mind and without any tedious method, Ironchip's intelligent location will be transparently guaranteeing the security of your accesses.

In addition, it respects the privacy of employees and complies with the current RGPD, the intelligent location is totally anonymous, since we only store the prediction algorithm capable of determining if the location is valid. Even if what you need is for the culture around cybersecurity to increase in your company, we also have the option of tailoring the mobile authentication application to your company's identity.

Start testing our platform for free now. Manage to generate a secure environment in your company, and provide the peace of mind of being protected to all your employees, give the system administrator the necessary tool to perform daily work in an agile, comfortable and secure manner.